SUMMARY
Early on, Donald Trump and his government downplayed the threat presented by coronavirus, and wasted the crucial early weeks when early action could have blunted its impact on our health and economy.
Now, unemployment in the US has skyrocketed, Trump is pushing to reopen the economy against the guidance of experts. Trump failures are forcing us into an impossible choice between our economy and the lives of our neighbors.
It didn't have to be like this.
Many peer countries to the United States reacted quickly, and as a result preformed significantly better than the United States in response to the COVID-19 pandemic. By taking the crisis seriously early, coordinating national and international responses to the virus, and testing their citizens, these countries were able to shorten the length of their internal lockdowns, leading to a faster economic reopening.
These countries are not run by psychics or superhumans. All they did was what Donald Trump refused to do: take the crisis seriously, and respond accordingly.
Specific Examples
The Austrian government entered their lockdown after only 200 people tested positive in the country, and before anyone had died. Early on, they created a mobile testing dispatch service, to keep people who needed tests from needing to travel. The lockdown was able to be slowly opened up after only one month. The country was able to open some international borders in May. Data shows that the number of cases per million inhabitants flattened off very quickly in Austria and neighboring countries, as compared to the US.
The Czech Republic also began its lockdown before the country recorded any deaths from the disease, and required mask use shortly thereafter—weeks before the United States recommended the same action. The Czech Republic ramped up testing per thousand inhabitants much more quickly than the United States. Within one month of entering a lockdown, the Czech Republic was able to begin safely reopening.
Denmark was one of the first nations to restrict public gatherings. It then focused its effort on reopening child care and elementary services as quickly and safely as possible, allowing parents to continue to be productive at home. In May, their retail sector was able to begin reopening. The government stepped in quickly with a well administered program to cover 75% of workers salaries, and as a result, Denmark saw only a 0.2 percent increase in unemployment in March.
Portugal declared a state of emergency when the nation hit two coronavirus deaths. Its hospitals never came close to being overwhelmed, and the country implemented one of the highest testing rates in the world, per capita. They ramped up this testing much, much more quickly than the United States, leading the country able to begin reopening safely in May 2020.
Germany quickly implemented government wage subsidies and a 'short time working' policy, much as it did during the great recession. This policy of reducing hours but maintaining employment helped prevent mass unemployment as seen in the United States. Germany's factories were able to stay open thanks to strict safety rules implemented very quickly in consultation with regional governments, employees, and unions. Germany's ability to ramp up testing, prevent deaths, and flatten its curve far outstripped the United States.
New Zealand aggressively responded to the crisis, seeing fewer than 1500 cases in total. The country was able to begin opening up in May after medical experts reported the island nation was able to sharply reduce incidence of the virus towards functional elimination.
COVID 19 hit South Korea and the United States at the same time, and in by mid-March, we had a roughly equal number of fatalities. But in April, the US's fatalities eclipsed South Korea 729 times over. South Korea was able push back the pandemic through a protracted testing effort on a massive scale. This testing flattened the curve quickly, limiting the need for a long and severe lockdown. As a result, in April Sough Korea was able to successfully hold parliamentary elections and even restart its baseball season.
| | | | | | | | | | |
| --- | --- | --- | --- | --- | --- | --- | --- | --- | --- |
| Country | Date of First Case[1] | Cases as of May 10, 2020[2] | Deaths As of May 10, 2020[3] | Death Rate of Cases | Cases per 100,000[4] | Deaths per 100,000 | Tests per 100,000[5] | Positive Rate of Tests | 2020/2021 Projected Unemployment Rate[6] |
| United States | 1/20/20 | 1,271,645 | 76,916 | 6.05% | 386.44 | 23.3741054 | 2631.3 | 14.69% | 10.36/9.135 |
| Austria | 2/25/20 | 15,787 | 618 | 3.91% | 176.29 | 6.90117253 | 3514.3 | 5.02% | 5.5/5 |
| Czech Republic | 3/1/20 | 8,123 | 280 | 3.45% | 75.99 | 2.61951539 | 2824.7 | 2.69% | 7.5/6 |
| Denmark | 2/27/20 | 10,429 | 529 | 5.07% | 180.68 | 9.16493416 | 5334.5 | 3.39% | 6.5/6.025 |
| Estonia | 2/27/20 | 1,739 | 60 | 3.45% | 131.15 | 4.52488688 | 4777.2 | 2.75% | 6/4.69 |
| Germany | 1/28/20 | 169,575 | 7,417 | 4.37% | 203.04 | 8.88082666 | 3289.1 | 6.17% | 3.886/3.452 |
| Israel | 2/21/20 | 16,492 | 254 | 1.54% | 193.59 | 2.98157061 | 5034.8 | 3.85% | 12/7.6 |
| Latvia | 3/2/20 | 939 | 18 | 1.92% | 49.24 | 0.94389093 | 4067.6 | 1.21% | 8/6.3 |
| Lithuania | 2/28/20 | 1,497 | 50 | 3.34% | 54.24 | 1.8115942 | 6755.8 | 0.80% | 8.9/8.1 |
| New Zealand | 2/28/20 | 1,147 | 21 | 1.83% | 23.98 | 0.43905499 | 3946.8 | 0.61% | 9.223/6.814 |
| Norway | 2/26/20 | 8,099 | 217 | 2.68% | 150.57 | 4.0342071 | 3614 | 4.17% | 13/7 |
| Portugal | 3/2/20 | 27,581 | 1,135 | 4.12% | 269.71 | 11.099159 | 4766.5 | 5.66% | 13.949/8.685 |
| Switzerland | 2/25/20 | 30,222 | 1,537 | 5.09% | 351.79 | 17.890816 | 3577.2 | 9.83% | 2.725/2.6 |
| South Korea | 1/19/20 | 10,909 | 256 | 2.35% | 21.30 | 0.49975598 | 1329.9 | 1.64% | 4.5/4.5 |
¶ A Combination Of An Early Lockdown And Mass Testing Allowed Austria To Reopen Quickly, Even Opening External Borders To Other COuntries
March 2020: At The Beginning Of Their Lockdown, The Austrian Government Created A Mobile Testing Dispatch Service In Which People Could Call A Free Hotline To See If They Needed To Be Tested, Which Could Send A Mobile Team To Do Tests. According to The Independent, "Aside from an early shutdown and self-isolation, Clemens Martin Auer, one of the government's chief health advisors during the pandemic, says the main reason for this decrease in infection rates was a hotline that dispatches mobile testing units to people who show symptoms that would match a Covid-19 infection. 'The key was to keep them out of the hospitals, where a lot of transmissions could take place, and where it could spread quickly, and that really made a difference for us,' Mr Auer told The Independent. Though mobile testing and a Covid-19 phone number are not unique to Austria, Mr Auer said that both were available from the start of the pandemic and widely advertised and promoted in the media. People showing symptoms were told to first call the freephone hotline, operated by the Austrian Agency for Health and Food Services, where an expert would determine whether the caller needed to be tested and dispatch a mobile team of health care professionals who administer tests directly at people's homes." [Independent, 04/15/20]
March 2020 – April 2020: Austria's Full Lockdown Only Lasted A Month, According to The Independent, "Austria's lockdown of all businesses considered nonessential went into effect on 16 March and, one month later, the country is among the first in Europe to start lifting restrictions." [Independent, 04/14/20]
April 2020: After Enacting Social Restrictions When Around 200 People Had Tested Positive, Austria Was Able To Begin Reopening In Mid-April, Less Than Two Months After Its First Case. According to Bloomberg, "Austria was one of the first countries to close down its economy as the virus began to spread. When its government announced the first social-distancing measures in March, only about 200 people in the entire country of about 9 million had tested positive for infection, and no one had yet died. The country began easing its lock-down measures on April 14, after case growth had fallen to less than 200 per day, and has only slowly relaxed -- allowing, for instance, individuals to leave their homes without a specific purpose. Larger stores reopened this month, along with services including hairdressers. Restaurants will only reopen Friday, schools next week and hotels at the end of the month." [Bloomberg, 05/11/20]
April 2020: Austria, Estonia, And Latvia Announced Plans To Reopen Their External Borders To Each Other Beginning In May 2020. According to The New York Times, "Estonia, Latvia and Lithuania plan to open their internal borders for citizens to travel between the three countries beginning on May 15, a decision that creates the first "travel bubble" among European Union countries as coronavirus-related travel restrictions begin to ease. The announcement, made by the prime ministers of the three Baltic nations on Wednesday, follows a statement made in late April by the prime ministers of Australia and New Zealand, who agreed this week to establish a similar bubble when flights between the countries can be safely arranged. Both Australia and New Zealand, compared to other nations, have made significant progress in containing the coronavirus outbreak within their borders. People traveling to the Baltic corridor from other countries will continue to be required to go into isolation for 14 days after entry. 'It's a big step towards life as normal,' wrote Jüri Ratas, the prime minister of Estonia, in a Twitter message." [New York Times, 04/29/20]
May 2020: The Austrian Government Offered Incoming Travelers The Option To Take A Three Hour COVID-19 Test To Avoid A Mandatory 14 Days In Quarantine. According to The BBC, "People travelling through Vienna Airport can take Covid-19 tests, at departure and on arrival. For people arriving in Austria it allows them to avoid 14 days of quarantine. The test results are available in around three hours, and cost €190." [BBC, 05/10/20]
¶ Austria's Quick Testing And Lockdown Flattened Their Curve Astonishingly Quickly Compared To The US.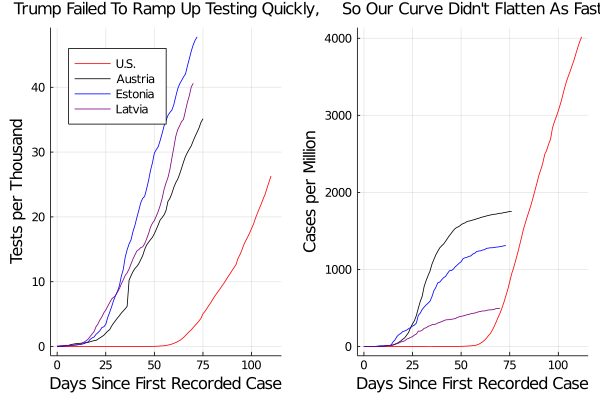 [Our World In Data COVID-19 Testing, accessed 05/11/20]
March 2020: The Czech Government Declared A State Of Emergency Before The Country Had Recorded Its First Death. According to The Guardian, "Prague was one of the few governments to declare a state of emergency before the country had recorded its first coronavirus death. By 11 March it had closed all schools, limited public gatherings, banned all public events, sealed its borders and shuttered all non-essential stores. It also made face masks obligatory in public." [Guardian, 04/24/20]
March 19, 2020: The Czech Government Ordered People To Cover Their Mouths And Noses In Public. According to Reuters, "The Czech government ordered people to wear masks or use something else to cover their mouths and noses when in public from midnight Wednesday, tightening restrictions to halt the spread of coronavirus." [Reuters, 03/18/20]
April 3, 2020: Trump Announced U.S. Public Health Guidance For People To Wear Masks In Public, Following Sharp Internal Debates. According to The Washington Post, "President Trump announced new guidance Friday that people in the U.S. wear face coverings in public to slow the spread of the coronavirus, a reversal of the administration's earlier recommendations. But Trump immediately said he himself would not choose to do it, even though "it may be good" advice, reflecting the sharp debate in recent days between the White House and the Centers for Disease Control and Prevention. White House coronavirus task force officials had debated whether to recommend universal use of face coverings such as cloth masks when people go out in public, or target the guidance more narrowly to areas with high community transmission of the virus that causes covid-19. Some senior administration officials pushed to limit the recommendation because they argued that wide use of masks is unnecessary and might cause panic. Some of the president's political advisers also warned against recommending masks for everyone, and had proposed to rewrite the agency guidance more narrowly, according to two senior administration officials who spoke on the condition of anonymity to discuss the guidance. The draft that went to the coronavirus task force on Friday limited the recommendation to high-transmission areas, they said." [Washington Post, 04/03/20]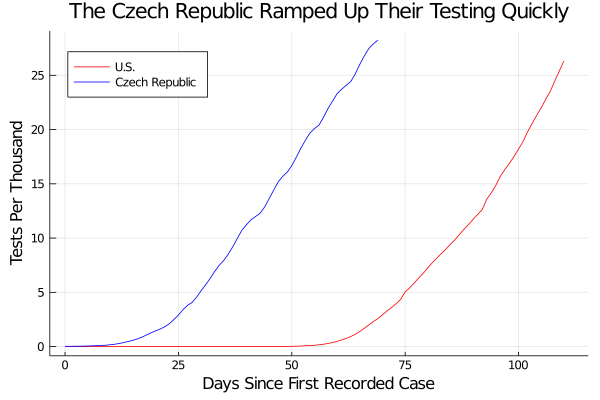 [Our World In Data COVID-19 Testing, accessed 05/11/20]
April 2020: After Being One Of The First European Countries To Require Masks, The Czech Republic Began To Phase Out Its Lockdown Order Within A Month Of Its Imposition. According to CNN, "The Czech Republic moved swiftly to impose restrictions on travel, ban large events and close non-essential businesses after declaring a state of emergency on March 12. Unusually in Europe, it also required its 10.7 million people to cover their faces when outside the home from 19 March. Those strict containment efforts appear to be paying off, as the government has now announced it is extending its relaxation of some restrictions. The Czech government said on April 6 that people would be able to exercise alone without masks, and that shops such as hardware and bicycle stores would be allowed to re-open. Outdoor sports facilities have also reopened." [CNN, 04/11/20]
April 2020: The Czech Republic Announced A Plan To Begin Reopening After Quickly Imposing "Some Of The Earliest—And Toughest-Measures […] To Curb The Outbreak." According to Reuters, "In March, the nation of 10.7 million people imposed some of the earliest - and toughest - measures in Europe to curb the outbreak and now joins a group of European countries seeking to cautiously return to business as transmission rates slow. While cautioning that the plan could be revised should the rate of infections spike anew, authorities said they would start by letting craft shops reopen on April 20, larger stores on May 11, and restaurants and shopping malls on June 8. 'This scenario is based on a parameter where the coronavirus will be under control, as it has been until now,' Deputy Prime Minister Karel Havlicek told a news conference." [Reuters, 04/14/20]
Following Quick Restrictions Of Public Gatherings, Denmark Was Able To Begin Reopening Its Economy In Late April. According to The New York Times, "Denmark was among the first countries to restrict public gatherings and close schools, restaurants and bars in a lockdown that quickly helped curb the spread of the virus. The government is talking to opposition parties about its plan, which it has promised to publish before May 10. Day care centres and primary school classes for ages 6 to 12 were reopened two weeks ago, followed by hairdressers and other small businesses on April 20, as the number of infections and deaths declined. 'All parties want to open everything up, no one wants to keep parts of Denmark closed even one day more than necessary, but everyone also acknowledges that we should do the most responsible thing for health,' Frederiksen told Ritzau. She said she hoped agreement would be reached quickly so that the latest easing could start on May 11. Denmark has seen daily infections and hospital admissions decline steadily, prompting Frederiksen to say last week that the spread of the virus was 'under control.'" [New York Times, 05/06/20]
April 2020: By Focusing On Reopening Child Care Services First, The Danish Government Allowed Its Citizens To Be More Economically Productive At Home. According to NPR, "While this move has caused anxiety for some, opposition parties complain it doesn't go far enough. They would have liked to see the government reopen small businesses, like hair salons or restaurants, as part of the first phase. But government officials say starting Denmark's reopening with its smallest citizens will give the economy a boost by enabling parents working at home to be more productive. As for the schools themselves, the government says they can only open when they're able to meet strict guidelines about hygiene and distancing. According to Peter Pannula Toft with the Danish Municipality Union, half of the country's districts say they'll be ready by Wednesday." [NPR, 04/15/20]
Denmark Installed Additional Hygiene Measures And Policies In Its Schools To Allow Younger Students To Return To School. According to The Washington Post, "The children pressed down on a hand sanitizer dispenser and kept a safe distance from one another as they filed into Ellebjerg School in central Copenhagen on Thursday. But while they settled into their lessons, with a new limit of 10 students per room, some of their classmates remained at home, their families resistant to participating in what they see as a public policy experiment. Denmark this week became the first country in Europe to reopen schools — nursery and primary up to fifth grade — as a start to lifting a coronavirus lockdown imposed on March 12. […] At Ellebjerg School, which is instructing children to wash their hands every two hours while in class, Principal Anne Graah called it 'a lovely day, beyond all expectations.'" [Washington Post, 04/16/20]
May 2020: The Danish Retail Sector Began Reopening As Older Children Returned To School. According to The New York Times, "Danish shopping malls, cafes and restaurants will be allowed to open next Monday and older children will return to school in the second phase of Denmark's reopening from its coronavirus lockdown, under a government proposal set to be debated shortly. 'The government is proposing that we reopen the entire retail sector including shopping malls, that restaurants and cafes can open again, and that older schoolchildren can get more of their everyday life back,' Prime Minister Mette Frederiksen said, according to the Ritzau news agency." [New York Times, 05/06/20]
In Response To The Lockdown, The Danish Government Covered 75 Percent Of Workers' Salaries In Affected Businesses, Up To $3,355 Per Month. Denmark's Unemployment Rate Only Increased 0.2 Percent In March 2020. According to The Washington Post, "'If you have 10 percent of the workforce getting laid off and going on unemployment benefits, then you would have 10 percent of the current high-spending consumers who wouldn't be spending anything because of the insecurity of the future,' said Danish Employment Minister Peter Hummelgaard. His government's program pays 75 percent of workers' salaries, up to $3,355 a month, for businesses that have taken a significant hit from the lockdown. Employers cover the other quarter. In Denmark, the unemployment rate rose to 4.2 percent in March, up from 4 percent in February, according to numbers released Thursday. If the 150,000 workers enrolled in Denmark's salary subsidy program had instead joined the jobless rolls, the unemployment rate would have jumped to about 9.5 percent." [Washington Post, 04/30/20]
¶ By Reacting Quickly And Testing Extensively, Portugal Was Able To Avoid The Worst Of The Pandemic
March 2020: Portugal's Early Response Led To Its Hospitals Not Being Overwhelmed. According to Forbes, "Although Portugal hit pause during the same week as much of the world, it was early relative to the virus's foothold here. When the state of alert started on March 12, there were 78 confirmed cases of Covid-19 and zero deaths. When the state of emergency was announced on March 18, there were 642 confirmed cases and 2 deaths. But well before that, many restaurants were closing voluntarily and many Portuguese were choosing to stay home, even without instructions to do so. […] Nearly two months later, the numbers are tragic for many families—1,043 deaths and more than 25,000 confirmed cases, according to yesterday's report from the Direção-Geral de Saude (public health authority)—but they are far below many of Portugal's European neighbors. Crucially, the hospitals were never even close to being overwhelmed. Salvador points out that the government created campaign hospitals in Porto and Lisbon but has not needed to use them." [Forbes, 05/04/20]
May 2020: With One Of The Highest Testing Rates In The World, Portugal Was Able To Being Reopening. According to Forbes, "The moves come as Portugal has been found to have the highest rate of testing per capita among the countries most impacted (according to the professional database Statista), a decrease in number of cases in hospitals and in intensive care, and a consistent decrease in the rate of contagion across the country. It is easier to find masks and disinfectant than it was a few weeks ago, so individuals can be more protected. With all of that in mind, the 'desconfinamento' has been well organized and well communicated. The first phase begins today. Some of its more noteworthy inclusions are the reopening of medical and dental clinics (now for routine situations), hair salons, small shops that open onto the street, bookstores and libraries, all with a lot of restrictions. Individual sports, including surfing, are also allowed." [Forbes, 05/04/20]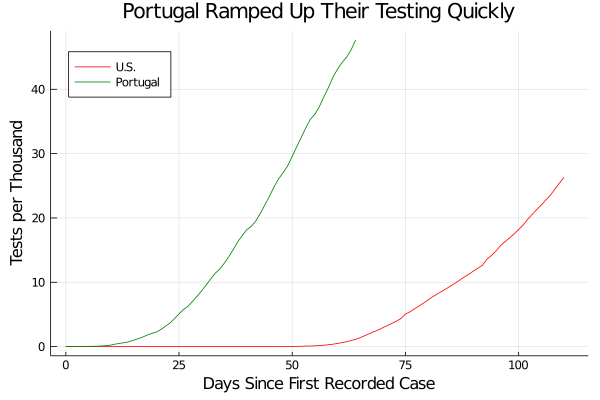 Our World In Data COVID-19 Testing, accessed 05/11/20]
¶ Germany's Coordinated Response Allowed It To Minimize The Harm Caused To Its Population And Economy By COVID-19
Q2 2020 – Q3 2020: While The United States Allowed Millions To Join The Unemployment Rolls, European Countries Implemented German Style "Short-Time Working" With Government Wage Subsidies. According to Foreign Policy, "The coronavirus pandemic has dramatically changed economic life across Europe and the United States. By confining people to their homes, leading them to spend far less money than they otherwise would, the West has seen a collapse in consumption, threatening the survival of a sweeping number and range of firms, from restaurants to airlines to car manufacturers. This, in turn, has produced a sudden and unprecedented collapse in demand for labor. The United States has witnessed a dramatic rise in jobless claims—a scarcely believable 10 million over the last two weeks. This is uncharted territory for labor markets, and so it is unsurprising that different countries have adopted different strategies for coping with the looming unemployment crisis. Many European countries are cushioning the impact of the crisis on their labor markets by employing a system pioneered in Germany and Austria called Kurzarbeit (short-time working). In essence, it involves reducing the number of hours a firm's employees work to reflect the fall in demand, but their salaries are reduced by much less than the reduction in hours, with the country's federal labor office funding the difference. Put simply, it is a form of wage subsidy." [Foreign Policy, 04/04/20]
2008 – 2010: During And Following The Great Recession, Germany Employers Utilizing "Short-Time Working" Were Able To Keep Their Workers On Payrolls And Ramp Production Up Quickly Following The Recovery. According to Foreign Policy, "Many credit Germany's rapid economic bounce-back from the 2008-2009 financial crisis to its system of Kurzarbeit. German unemployment rose less than in comparable countries, enabling German firms to hold on to skilled workers, which in turn meant that they could respond more rapidly once global demand started to recover." [Foreign Policy, 04/04/20
Learning From China, German Factories Implemented Strict Safety Rules Early On In Consultation With Regional Governments, Employees, And Unions. According to The Wall Street Journal, "And German authorities, unlike those in Italy and Spain, gave all factories the option to stay open through the pandemic. More than 80% of them did so, and only one-quarter have canceled investments, according to a recent survey conducted by the Institute for Economic Research, a Munich think tank. As the U.S. and other parts of Europe move to reopen their industries, some are looking to Germany for lessons on how to do so as safely as possible. Among them: Businesses implemented strict safety rules early on. Managers involved unions and employees in safety planning. Regional governments moved quickly to test and trace chains of infection. And strong ties to China, where many German firms have operations, gave companies a jump on planning. Although German businesses generally acted on their own initiative, they also benefited from government actions affecting the entire population, and from the nation's overall good fortune relative to its harder-hit neighbors." [Wall Street Journal, 05/06/20]
IMF: German Factories' Decisions To Stay Open Could Allow For A Faster Recovery. According to The Wall Street Journal, "Yet many economists, including those from the International Monetary Fund, think the decision by German companies to keep running through the lockdown could allow its economy to recover faster than other nations next year. 'Germany has created stable conditions, and I think there is a chance for us to rebound more quickly,' said Thomas Böck, chief executive officer of CLAAS, an agricultural machinery manufacturer based in northwest Germany." [Wall Street Journal, 05/06/20]
¶ The Quick German Response Limited The Human Toll Of The Pandemic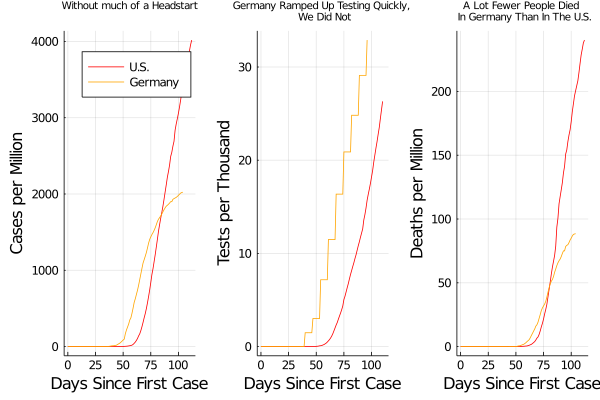 [Our World In Data COVID-19 Testing, accessed 05/11/20]
May 2020: Germany Announced Further Reopening, With Schools, Restaurants, And Hotels Poised To Reopen. According to The Wall Street Journal, "Germany on Wednesday announced a further phasing out of its lockdown, putting itself at the front of a group of large European countries that are feeling their way back toward economic normality after slowing the spread of the coronavirus. Schools, restaurants and hotels will be able to reopen in coming weeks across the country subject to safety and hygiene measures, according to an agreement reached between the country's 16 states and the federal government of Chancellor Angela Merkel. Individual states will even be free to gradually reopen concert halls, nightclubs, pools, fitness clubs, tattoo parlors and brothels and to allow smaller public events to take place under certain conditions if they deem the risk of infection is low enough." [Wall Street Journal, 05/06/20]
¶ New Zealand's Quick And aggressive REsponse To Covid-19 Allowed IT To Reopen THe Country After Only Two Months Of Strict Lockdown With Fewer Than 1,500 Total Cases
New Zealand's Aggressive Response To COVID-19 Led To Fewer Than 1,500 Total Cases. According to The Guardian, "Less than 1,500 people have been infected with Covid-19 in New Zealand after the government pursued a vigorous elimination strategy, shutting its borders on 15 March and entering a country-wide lockdown on 25 March." [Guardian, 05/11/20]
May 2020: New Zealand Reduced Restrictions, "Easing Back To Normality," Allowing Schools, Offices, And Restaurants To Begin Reopening. According to The Guardian, "New Zealanders will begin easing back to normality this week as almost two months of strict lockdown comes to an end following the country's successful battle against Covid-19. Prime minister Jacinda Ardern announced on Monday that the country would downgrade from Level 3 to Level 2 restrictions on Thursday, allowing schools to reopen, workers to return to their offices, and restaurants and retail stores to resume trade. Recreational and competitive sport could also restart, and libraries, playgrounds and museums would open. Bars would reopen on 21 May, Ardern said, as they have been deemed 'high-risk' by the director-general of health, and social gatherings would be limited to 10, including at weddings and funerals." [Guardian, 05/11/20]
March 2020: New Zealand Announced that They Would Pursue An Elimination Campaign Against COVID-19. According to The Lancet, "On March 23, a month after the country had recorded its first case, New Zealand committed to an elimination strategy. A few days later, Prime Minister Jacinda Ardern announced a strict national lockdown when it only had 102 cases and zero deaths. Her swift decision making won international praise, including from WHO. New Zealand's decision to pursue an elimination approach was a vastly different approach to usual pandemic planning, which has historically been based on a mitigation model and focuses on delaying the arrival of the virus, followed by a range of measures to flatten the curve of cases and deaths. Michael Baker, professor at the University of Otago's department of public health in Wellington, who has been advising the New Zealand Government on its response, said implementing a full lockdown—involving the closure of schools and non-essential workplaces, a ban on social gatherings, and severe travel restrictions—enabled the country to consider elimination. 'I think it was the right decision; we had to go hard', he said. 'The two biggest benefits of pursuing an elimination strategy is that you have few cases and few deaths and you can get business back up and running. The alternative was that we are stuck with the virus and stuck between mitigation and suppression. Suppression is pretty grim.'" [Lancet, 05/09/20]
May 2020: New Zealand Recorded Its First Day Of No New Cases. According to The Lancet, "An aggressive approach has enabled New Zealand to end community transmission of SARS-CoV-2. Sophie Cousins reports. New Zealand recorded its first day of no new cases of coronavirus disease 2019 (COVID-19) early this week, more than a month after its strict lockdown began. At the time of publication, New Zealand had recorded fewer than 1500 confirmed cases of COVID-19, and 20 deaths." [Lancet, 05/09/20]
¶ South Korea Used Testing, Tracing, And Isolation To Crush Its Curve
Mid-March 2020: The U.S. And South Korea Each Had Approximately 90 COVID-19 Related Fatalities. The Next Month The U.S. Lost 729 Times As Many People. According to The Atlantic, "In the time that South Korea righted its course, the United States veered into disaster. In mid-March, the U.S. and South Korea had the same number of coronavirus-caused fatalities—approximately 90. In April, South Korea lost a total of 85 souls to COVID-19, while the U.S. lost 62,000—an average of 85 deaths every hour. That the U.S. population is approximately six times larger than South Korea's does little to soften the horror of the comparison." [Atlantic, 05/06/20]
March 2020: Following A Protracted Effort Through January, South Korea Had Tested More People Than The U.S., The U.K., France, Italy, And Japan Together. According to The Atlantic, "In late January, just one week after the country's first case was diagnosed, government officials urged medical companies to develop coronavirus test kits and told manufacturers to prepare for mass production. By mid-February—while the U.K. was talking about "herd immunity" and President Donald Trump was predicting that the virus would "miraculously" disappear in weeks—South Korea was churning out thousands of test kits every day. By March 5, South Korea had tested 145,000 people—more than the U.S., the U.K., France, Italy, and Japan combined." [Atlantic, 05/06/20]
South Korea Implemented Zero-Tolerance Isolation Policies To Stop People From Spreading The Virus. According to The Atlantic, "To separate the sick from the healthy—and the somewhat sick from the very sick—South Korea's patients are divided into several groups. The elderly and those with serious illnesses go straight to hospitals. Moderately sick people are sent to isolation dorms, where they're monitored. And the asymptomatic "contacts" of recently diagnosed cases are asked to self-quarantine at home and use separate bathrooms, dishes, and towels from their cohabitants. Health-service officials check in twice daily to monitor their symptoms. International arrivals are also subject to isolation rules. South Korea requires that foreign arrivals self-isolate for two weeks. Koreans arriving from overseas are required to download an app that registers their symptoms in the days after their arrival. By early April, South Korea reported that more than 170,000 inbound travelers had downloaded the app, and nearly 9,000 of them had reported symptoms requiring hospitalization or mandatory quarantine. (Individuals who violate self-isolation rules face steep fines or, for foreigners, immediate deportation.)" [Atlantic, 05/06/20]
South Korea Was Able To Use Its Early Testing Advantage To Flatten The Curve Quickly, Limiting The Need For A Long And Severe Lockdown.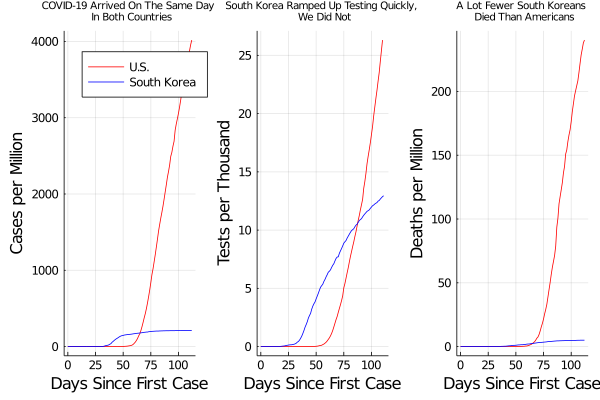 [Our World In Data COVID-19 Testing, accessed 05/11/20]
April 2020: South Korea Was Able To Hold Its Parliamentary Election, With The Highest Turnout In 28 Years. According to The New York Times, "Pandemic or not, South Koreans proved eager to vote in the election, widely seen as a midterm referendum on Mr. Moon​, elected to a five-year term in 2017.​ The voter turnout was 66.2 percent, the highest for a parliamentary election in 28 years." [New York Times, 04/15/20]
The South Korean Government Created An Environment In Which Voting Was Safe, Including For The 13,000 People In Quarantine And Hospitalized Patients. According to The New York Times, "All voters were required to wear masks ​and line up at three-foot intervals​. Officials screened out ​those with high temperatures so that they could vote ​separately. Voters were also required to rub their hands with sanitizer and put on disposable plastic gloves handed out by officials before ​entering ​voting​ booths​​.​ More​ than 13,000 ​South Koreans who were in a mandatory two-week quarantine but still wanted to cast ballots were escorted by officials to vote after​ the polling stations closed to the general public at 6 p.m. Hospitalized patients of the virus were given the choice to vote by mail. Hundreds of patients with mild symptoms were allowed to vote in advance." [New York Times, 04/15/20]
May 2020: After A Slight Delay To The Start Of Its Baseball Season, The South Korean Baseball Organization Was Able To Start Its Season, With ESPN Broadcasting Due To The Lack Of Other Sports Content. According to The Seattle Times, "For ultra-early risers, very-late night owls and insomniacs, or specifically baseball-starved fans craving a Major League Baseball season that came achingly close to starting, there has been an oasis of live sports relief this week during the hours most people are asleep. After a delay due to the spread of the novel coronavirus, the Korean Baseball Organization (KBO) started its 2020 season Monday. In the search for programming while leagues in the United States are shut down, ESPN worked out a deal to broadcast six live KBO games per week, with an English broadcast done by announcers in the U.S." [Seattle Times, 05/08/20]
Low Labor Market Regulation And Unemployment Benefit Levels In The United States Incentivize Rapid Layoffs During Economic Downturns. According to Foreign Policy, "There is no tradition of Kurzarbeit in the United States. When demand for labor falls, the number of workers typically falls rapidly to reflect the drop—there is no attempt to divide up the remaining demand for labor among the existing number of workers. One reason is that it is cheaper and much less complicated for U.S. firms to shed workers. Another is that unemployment benefits are traditionally low compared with those in many Western European countries, hence public subsidization of private sector wages can seem expensive." [Foreign Policy, 04/04/20]
Q1 2020: The European Economy Contracted At A Slower Rate Than The American Economy. According to The Washington Post, "The European economy shrank by 3.5 percent in the first quarter of the year, the sharpest decline on record. The U.S. economy contracted by an annualized 4.8 percent during the same period." [Washington Post, 04/30/20]
Unlike American Stimulus, European Governments Focused Directly On Employment, "Saving A Lot Of Anguish In Hiring And Firing." According to The Washington Post, "The philosophy in Europe is that the financial blow of the pandemic can be softened if workers are able to keep paying their bills and if businesses do not have to hire and train an entirely new set of employees as the crisis abates. Many European governments have implemented a subsidy program, pioneered by Germany in the last global recession, under which they pay up to 87 percent of salaries for workers sent home but kept on payroll. In the United States, stimulus and relief programs have been comparable in scale, but not as directly linked to avoiding layoffs. The impact of the pandemic in terms of lost work hours is similar on both side of the Atlantic, said Holger Schmieding, chief economist for the Hamburg-based Berenberg Bank. But the European system saves 'a lot of anguish in hiring and firing.'" [Washington Post, 04/30/20]
Money Directed To Protect American Workers' Paychecks Could Be Spent On Rent Or Mortgage Payments As Well, Cutting Off Some Aid To Workers. According to The Washington Post, "The U.S. small-business loan initiative known as the Paycheck Protection Program contains elements similar to the European efforts, because it forgives loans if they are used for payroll, rent or mortgage payments. Congress has channeled $659 billion toward it so far. But the money does not go exclusively toward avoiding layoffs, and U.S. unemployment filings continued to skyrocket Thursday, bringing total new claims to 30 million in the past six weeks." [Washington Post, 04/30/20]

[1] World Health Organization COVID-19 Dashboard, accessed 05/11/20
[2] Ibid
[3] Ibid
[4] United Nations Department of Economic and Social Affairs Population Division, 06/17/19
[5] Our World In Data COVID-19 Testing, accessed 05/11/20
[6] International Monetary Fund World Economic Outlook Database, April 2020